Team
Mark F. Engel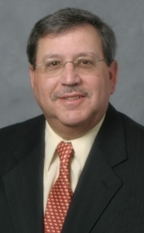 Mark F. Engel is the CEO of Langsam Property Services Corp. Mr. Engel graduated from Queens College of the City University of New York in 1967 with a Bachelor of Arts Degree, majoring in accounting. He is a licensed Real Estate Broker since 1976, and earned the designation of Certified Property Manager (CPM) from the Institute of Real Estate Management (IREM). Mark Engel is also a Certified Public Accountant and Insurance Broker. In addition to property management, he maintains a full line of insurance for the properties Langsam Property Services manages.
Mark Engel is a very "hands on" CEO. He meets regularly with staff and is consulted on all policy issues. He meets with clients to ensure that his staff is addressing their individual management goals. He periodically visits properties to ensure that the Langsam standards are being maintained. His door is always open to anyone seeking his counsel.
Much of the work, such as reviewing the entire accounts receivable and initiating legal action against those tenants who owe rent, are handled personally by this CEO. He also personally reviews all the accounts payable before payment is made.
Mark Engel has served the Bronx-Manhattan Association of Realtors as Vice President, Treasurer, and 1988 and 1990 President. Mr. Engel serves as Vice President of the Rent Stabilization Association and the Bronx Realty Advisory Board. He also serves on the Board of Advisors of the "New York Apartment Law Insider" newsletter. He serves on the Cabinet of the Long Island Division of State of Israel Bonds and the Executive Board of the Jewish National Fund of Long Island. Mark Engel has distinguished himself by receiving the Bronx Businessman of the Year Award from the Bronx Historical Society and the Humanitarian Award from the Albert Einstein College Medicine. He has also received the Hall of Fame Salute to Bronx Business Award from the Bronx Community College Foundation.
He has been married to JoAnn for over 50 years and has two sons. JoAnn teaches courses for gifted students at a private school. Steven, a graduate of Harvard University and Yale Law School, is an attorney. Matthew, a graduate of the University of Pennsylvania, Wharton School of Business, has worked with Langsam since November, 2001.
Matthew Engel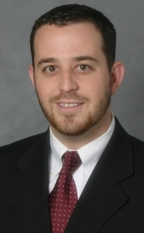 Matthew Engel is the President of Langsam Property Services Corp. He began his career at Langsam Property Services in November 2001. Mr. Engel graduated from the Wharton School at the University of Pennsylvania in 1999 with a Bachelor of Sciences degree in Economics, with a concentration in Real Estate and Finance. He has a Real Estate Broker's license and is a Certified Property Manager (CPM) as designated by the Institute of Real Estate Management (IREM). Mr. Engel currently serves as Chairman of the Community Housing Improvement Program (CHIP), a major industry lobbying organization. Mr. Engel also previously served as the 2009-2011 President of the Bronx Manhattan North Association of Realtors (BMAR). In addition, Mr. Engel is the 1st Vice President of the Bronx Realty Advisory Board (BRAB) and serves the Rent Stabilzation Association's Board of Governors.
At Langsam, Mr. Engel serves as President, working with all facets of the organization, including asset management, maintenance and building operations, law enforcement cooperation and internal office departments. In these roles, he is able to assist each department while striving to improve the organization's processes and overall operations.
Prior to joining Langsam, Mr. Engel served as a Senior Consultant at Ernst & Young Kenneth Leventhal's Real Estate Advisory Services Group, working with clients to analyze specific real estate projects and organizations. As such, Mr. Engel's job responsibilities included understanding clients' operations, processes, culture and technology, identifying financial and strategic improvement opportunities and limitations, and outlining plans for the implementation of selected improvements. His most notable clients included Barnes & Noble, the Thomson Corporation, Morgan Stanley's Real Estate Funds, the New York Jets and the Durst Organization.
Mr. Engel's work at Ernst & Young gave him an in-depth understanding of the national, state and local multi-family residential, commercial, industrial and hospitality markets. Working as a consultant has also improved his ability to think critically and to work towards improving organizational efficiency.
Mr. Engel is a former Chair for Young Leadership Division of the American Israel Public Affairs Committee (AIPAC) and now serves on the Executive Committee of the organization's Real Estate Division, and co-chairs a New Leadership Network group.
Matthew has been married to Ilana Engel since May, 2006 and they reside on Long Island with their son and daughter.
Brian Lewis
Brian Lewis is the Director of Operations. He became a licensed Real Estate Broker in 1978. He earned the designation of CPM in 1979 along with Mark Engel, with whom he has enjoyed a friendship that has spanned a period of more than two decades. He earned a degree in Public Accounting, Finance and Law from New York University and was the recipient of the Hayward Holbart Memorial Award for academic excellence. He was elected to Areopagus, the Pre-Law Honorary Fraternity. Mr. Lewis did graduate work in Federal Taxation at Pace University and at New York University School of Real Estate. He earned the designation of Certified Property Manager from IREM in 1979.
As Director of Operations, Mr. Lewis is responsible for the day-to-day operation of the 10,000 apartments managed by Langsam. In this capacity, he supervises a team of Managing Agents, each of whom manages a group of buildings. Mr. Lewis monitors all major repairs and approves specifications and proposals. He directs Langsam's Asset Management team by reviewing financial statements, implementing operational changes, and establishing capital improvement programs through extensive planning of capital budgets. Mr. Lewis personally reviews bills approved by agents to ensure qualified contractors follow the most cost effective procedures.
Mr. Lewis was Senior Asset Manager with a leading Wall Street underwriter. He was responsible for a major portfolio along the East Coast. Mr. Lewis was credited with the successful drug abatement and revitalization of the Florida portfolio as well as major properties in New York State. In 1994, he was cited by the NYPD for his work in reclaiming a drug-infested property in the Mott Haven section of the South Bronx. He has been involved in similar anti-drug and anti-crime projects in Washington Heights, Manhattan Valley, and other areas. Mr. Lewis has been credited with saving one of the last affordable complexes in the North Bronx. Drug dealers had controlled 132 apartments in a five square block complex of 1,400 units. Vacancies exceeded 500 units. By uniting community activists and working the Community Board and a dozen City agencies, he restored service to the remaining tenants and started the community's transition to once again be a place where people can be proud to live and feel safe.
Lewis served as Chief Operating Officer in the early 1990's for one of New York's most prestigious privately owned companies. They are developers and owners of luxury high-rise properties in Manhattan. However, Lewis prefers the challenges of affordable housing. In April 1999, he was presented with a "Hero's Award" by the Federal Department of Housing and Urban Development for his outstanding results with limited financial resources. He also received recognition from the NYPD Honor Legion in November 1999 for his work in drug abatement and crime control.
Mr. Lewis also serves on the Board of Directors for Lehman College, Center for Performing Arts and is a member of the Bronx District Attorney's Crime Victim's Assitance Unit. He served as a member of the Board of Governors of the Bronx Manhattan Association of Realtors in the early 1980's. In 1988 Mr. Lewis was elected to the Board of Governors of the Bronx Realty Advisory Board. In 2001, he was designated as the Bronx-Manhattan Association of Realtors' Realtor of the Year. He received an award from the NYPD's Narcotics Division of the Organized Crime Control Board in 2001. Brian and his wife Zenaida have been together for twenty-two years. She is a Certified Bilingual Teacher and Psychologist.

Rajive Maret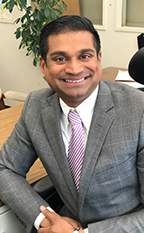 Rajive Maret, Vice President/Director of Administration. Mr. Maret began his career at Langsam in October 2016. Mr. Maret graduated from the Lubin School of Business at Pace University in 2004 with his BBA degree in Finance.
At Langsam, Mr. Maret brings over 15 years of property management, asset management and operations experience to the Langsam organization and is responsible for the oversight of the affordable housing department as well as Section 8 administration, lease renewals, j-51 and MCI, and MBRs. Mr. Maret also handles Langsam's commercial leasing department.
Prior to joining Langsam, Mr. Maret served as Vice President/Director of Property management at D&F Development Group. Mr. Maret was responsible for the overall management of the day-to-day operations for D&F/LTD's residential portfolio which consisted of over 1,400 units of cooperative, tax credit, project based and tenant based voucher section 8 housing. Mr. Maret also has held previous roles at The Dermot Company, G-way Management and Milford Management.
Rajive has been married to Suzanne Maret since June 2014 and reside in New Jersey with their daughter.